Yoga – a way to look inward and master the mind and body, and evolve into a state of constant meditation. This method of self-exploration, relies heavily on raising our perception and receptivity.
Traditionally yogis used "asans" or seats to practice their sadhana predominantly made out of grass, animal skin, cotton or silk. Today we refer to them as yoga mats, and they are predominantly made out of PVC, PER, TPE, rubber and cork. Each material yielding its own set of benefits depending on the kind of practice and the kind of grip we are looking for. There is one vital drawback though, and this drawback is insulation! One thing we don't want happening during our practice, to disconnect from the Earth and weaken our receptivity.
Unlike eco-friendly yoga mats, which are often made with synthetic but degradable materials, natural yoga mats are made with 100% natural biodegradable materials like grass and cotton, which are traditionally known for allowing free flow of energy, the more intense we become, the more receptive we become. This property makes natural yoga mats an added source of support for the disciple and also for the planet because we are investing in something that will return to Earth naturally. Each mat is handcrafted, fully natural and made unique to the purpose of yoga, intimately supporting the yogis' practice.
Returning to the topic of synthetic materials modern day yoga mats are made out of, PVC – a popular choice, is a versatile material used for many different applications across industries, but as we pay more attention to the its lifecycle we see how this material could potentially cause more harm than good.
PVC has been labelled the "most toxic plastic" by the Healthy Child Healthy World and vinyl chloride, the chemical used to make PVC, has been labelled a human carcinogen by the World Health Organization's International Agency for Research on Cancer. According to a study by "The Center for Health, Environment, and Justice", PVC is held responsible for many tumors and fetal malformations.
The reason being, its high chlorine content creates toxic pollutants called dioxins. Anyone who has ever used a PVC mat can vouch for the "off-gassing" or leakage of the chemicals into the air, which is evident in its strong pungent smell. This off-gassing continues even in landfills, as the toxic dioxins and phthalates seep into the soil, contaminating water bodies. Attempts to recycle PVC fail as well, since the additives used in the manufacturing process to make it resistant and flexible contaminate the whole recycling process. Many consumers may not be aware that the "3" symbol affixed to plastic means PVC, and recycling such products isn't feasible as they would result in unusable containers. In fact, a single PVC bottle can contaminate a recycling process of 100,000 PET bottles.
While embarking on a journey to connect with the cosmos, our faculties of mind, body and energies need to work at their optimum. After all, that is all we have with us as human beings, and what we trying to achieve through any spiritual practice or any practice aimed at our well-being is just this, that we make our faculties in the best possible way, according to our own abilities. So, choosing a mat that supports good health, connectivity and vibrancy comes naturally. A yoga mat is a tool, the abode of our practices, and definitely not a space for breeding disease. Not for ourselves or for the beings around us.
With an easy yet impactful choice we can create a solid foundation where we support the well-being of our planet and of the future generations by taking care of our well-being.
This post was upcycled from Nishchala Crafts.
Related posts
Cleanliness, so they say, is next to godliness. And far be it from us to tell you to not clean up. After all, what better way to start your eco-friendly journey than by the life changing magic of cleaning up?
But cleaning up can often be a double-edged sword when it comes to how you're affecting the world around you. Most cleaning agents in the market today contain a lot of harmful chemicals, which find their way into the water table when we use them, and end up causing a lot of damage. As with most things in life, cleanliness can come with hidden costs.
Cleaning your spring cleaning products
They also say cleanliness begins at home… Or is that charity? Either way, they both begin at home, as does environmentalism.
And one of the first things you can do to start making the change is to change the way you clean at home. We don't need to tell you about all the different harmful chemicals that seep into the water table from your bleaches, laundry detergents, dish soaps, and more.
Bio-degradable and less harmful options exist by the dozens – even in the Indian market. You can find low impact laundry detergents, floor cleaners, dish soaps, and everything in between so that in your attempt to keep your house clean you don't accidentally muck up the environment.
Got your hands dirty?
The Europeans may have discovered the importance of washing hands only in the 19th century, but we're willing to bet there were Indian mothers in 100 AD telling their kids, "haath moo dho lo".
But in the 21st century, we may in fact be overdoing it a bit. In fact, you're probably washing your hands with soap much stronger than you need. And more to the point, with soaps which are major factors contributing to water pollution.
A simple solution is to switch out your super strong antiseptic hand wash for something gentler, more organic, like the natural hand wash foam by Bubblenut Wash.
Pearly, white, and green!
As much as we all love to be minty fresh, admittedly, there are some unfortunate side effects of human beings being keen on dental hygiene.
To begin with, regular toothpastes contain a lot of chemicals, and while some of them are good for you, not all of them are. And a lot of them are certainly not good for the environment! As for your toothbrush, they're one of the most prevalent items that fill up huge landfills all over the globe.
But in the internet age, you have options! You can switch to more organic toothpastes, go old school and try organic tooth powder, and even switch to bio-degradable toothbrushes. A lot of these products are competitively priced and can even turn out to be cheaper than your regular choice of products. And for those of you who would rather not risk the cost, there are plenty of home remedies and natural recipes that will help you take care of those chompers – without digging into your budget or harming the environment!
Yeh kaali kaali zulfein
Of course your hair is important! For even the least image conscious of us, our hair (or lack of it) is a big part of who we are and our identity. But in the rush to maintain it, we may in fact be cleaning it too much. So instead of spending a bomb on more and more products, try going natural for a while.
There are plenty of brands selling shampoos and hair care products that are organically made and highly eco-friendly. At the same time, you can also try a whole bunch of desi nuskas, including shikakai, eggs (if you're non-vegetarian). You can check them out here.
Shiny and clean
Now that you've brushed your teeth with bio-degradable products, and washed your hair with organic materials, time to move on to the rest of it.
There are enough and more Ayurvedic and organic replacements for most of your bathing needs – this is India, after all. You have besan, haldi, cucumbers, lemon juice, yogurt…. The list is endless. And while you can try and find the right fit for you, you still may find that they don't work as well as you hoped, or that they take too much effort – after all, you may not have time to mix up a whole 3 ingredient recipe each time your face feels a little greasy.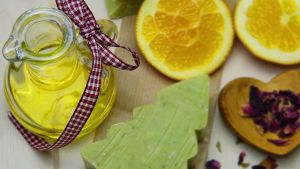 In that case, simply switch to more bio-degradable and sustainable options you can find here, and you can have that soapy fresh feeling without the corresponding carbon footprint.
Keeping clean – whether it's your home or your body – is a very personal thing, that we all should take pride in. And for those of us who care for the environment, it can also be a way for us to make better decisions in life.
We're certainly not suggesting you upend your entire cleaning and hygiene routine for the sake of what we consider important. Instead, just figure out which areas you can make a change in without it taking a hit on your budget and/ or your life. Either which way, you can always start by using less water – and never leaving the water running.