Home
/
Eco-friendly
/
7 harmful deodorant ingredients that will make you think twice!
Deodorants are a vital part of everyone's daily grooming, & have become a big part of basic hygiene in society today. Despite that, hardly anyone stops to think about what the ingredients in their deodorant are & how they might affect our health.
Today's deodorants promise 24 Hour odour removing & anti-perspirant qualities – but it's now known that many of the chemicals used in normal deodorant are actually harmful to the body & are toxic – such as such as aluminium chlorohydrate, parabens, propylene glycol, triclosan, TEA, DEA, FD&C colours, and Talc.
It's now also being understood that these chemicals can change the way the body functions & actually increase the amount (& smell) of our sweat.
Let's take a look at each one in detail to understand why it might be bad for you:
1.Aluminium
Aluminium compounds are normally what is added to the deodorant to make it "anti-aspirant". they block the pores of your skin to that sweat cannot get to the surface of the skin. But they can also be absorbed into the body, & several celebrities have come out boycotting it due to the link to causing breast cancer.
2. Parabens
These are a class of artificial preservative used in most cosmetics worldwide, but they have been recently banned in a lot of places because they disrupt our hormones & even increase the risk of hormonal cancers.
3. Polypropylene Glycol
This substance is added to stick & roll-on deodorants to prevent the product from drying out. Although it was originally used for industrial purposes, & even cautions against skin contact on its Material Saftey Data Sheet(MSDS), it has somehow crept its way into our cosmetic products. It's a neurotoxin that is known to cause dermatitis, kidney damage & liver damage. Acute reactions to it include eye/skin irritation, nausea, headaches, vomiting.
4. Fragrance
There are a whole host of chemicals which fall under this category – which are not very well regulated. Phthalates are one class of these which has been linked to disruption of hormones in the body.
5. Triclosan
Triclosan is a major part of many anti-bacterial products used today but has been recently banned by the FDA due to its cons weighing out its pros. Although it is effective, it also is known to be a hormone disruptor & over time, they could even encourage anti-bacterial resistance to antibiotics, often making their users more prone to illness.
6. FD&C Colours
Synthetic colors added into several products to increase the appeal etc. Although not directly harmful to the body, some of them can cause allergies in some people & are derived from Coal Tar, which is a non-renewable source.
7. Talc
Talc is a soft mineral synonymous with personal care products, in fact even predating deodorants, in the form of talcum powder. Talcum powder has now been shown to cause cancer, with a landmark lawsuit which ended up with one woman being awarded $110 Million in damages for Talc causing her cancer.
This post was upcycled from the TreeWear India blog.
Let deodorants no longer be a die-odorants. Take a sustainable step now.
Related posts
You may have heard that beauty is pain. And sure enough, between threading, waxing, and standing in a humid office bathroom trying to perfect that winged eyeliner, we agree wholeheartedly. But you're reading this on an environment friendly, eco-nerdy, super sustainable blog (fingers crossed)… and we're not just talking about the pain of raccoon eyes and uprooting entire hair follicles from our skin.
Beauty, as it turns out, is a heck of a lot of pain for your friendly neighbourhood planet earth as well. So you can go ahead with the threading all you want, but when it comes to your everyday cleaning, exfoliating, shampooing, and getting to #MakeUpGoals, we have a few suggestions that will make your beauty routine a little more sustainable.
So let's get beautiful – inside and out!
Squeaky clean you, Not so clean for the environment
As any beauty guru will tell you, the first step with every beauty routine is cleaning. In fact, for some of us who keep life fairly basic and minimal, this is the end of our beauty routines. And the cleaning, exfoliating and prep process is where the environment takes a lot of hits from our beauty routines.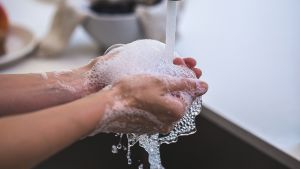 Most regular hair, face, and body cleaning products contain a lot of harmful chemicals and substances that make their way to the water table. Not only do they affect the water, they in turn affect any plants or animals that come in contact with them through the water.
For instance, the Sulphates contained in most shampoos are not just bad for your hair, as Jonathan from Queer Eye will tell you, they're also mega horrible for the environment.
The same applies to most of the chemicals seeping into the water table from your soaps, body washes, and such. If the exfoliating granules in your face scrub or face wash is made from plastic or synthetic materials, they end up entering the water table as tiny bits of plastic that are basically untraceable, unsalvageable, and un-recyclable.
So if you want to make your beauty routine sustainable, but you don't have a lot of energy – your first and last step should be to change your cleaning products. And we know just the place you can start. Check out the range of eco friendly and sustainable soaps, shampoos, and more available right here!
Let's get Ethical
When it comes to sustainable products, it's not just the environmental impact we have to consider. The human impact of certain products are another factor you should be paying close attention to. After all, what's the point of saving the world one harmful chemical free shampoo at a time, if that shampoo is made by an underpaid child labourer who's paying the price instead?
To start out, try out some of the products over at Haushala Creatives. Happy hunting!
Bunnies and More
Another unsavoury aspect of the beauty world is animal testing. While animal testing for cosmetic products are technically banned in India, a lot of beauty products in the market – everything from soaps to eye shadow – are in fact tested on animals.
And the fact is, while a few decades ago, there may not have been an alternative to animal testing, there are plenty in 2018. The silver lining is that as of now, there are plenty of international and local companies that make their products without any animal testing.
If you want to go for cruelty free products, you just need a phone, the internet, and about 30 seconds. Just type the name of your brand and product along with "animal testing" in the google search bar, and within the first three or four results, you'll have your answer.
Gharelu Nuska Time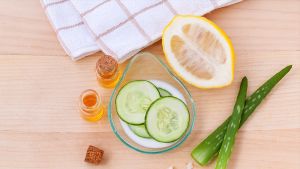 If you want to go a step further, start looking for the gharelu nuska for your regular products. Replace your face wash and soaps with besan, haldi, and a combination of other natural products like honey, lemon juice, and even eggs. Shampoos are a little harder, but with a little research and some patience, you can find recipes from all over India on how our ancestors went about cleaning their tresses. Hibiscus leaf shampoos were all the rage in Kerala once upon a time, and some beauty gurus swear by the lustrous effect egg whites have on your hair.
The advantage with this is that you have control over everything you're using, and your routine can be made mostly of organic and natural products that don't have any untoward affects on the environment. While you may not be able to do everything we're suggesting here (you could be vegan, or simply lack the will to find a hibiscus plant in a concrete jungle), the point of this is to take even one small step in your life to get you started.
This is in no way the end of your Sustainable beauty makeover. Everything from your fashion choices, to makeup decisions can be tweaked around and shifted completely to reflect a more eco-friendly lifestyle.
But is you're just wading into the waters of the green lifestyle, our suggestions here should give you a taste of the bigger changes you could start making should you choose to.
So… let's pretty up, eco-friendly stylez!